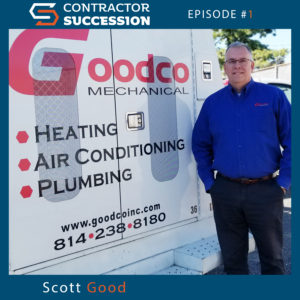 In this edition of the Contractor Succession podcast, my partner Scott Good and I discuss an article Scott wrote (on blog tab on our website)) about "Intangible Assets", the options that business owners have when they decide to exit their business, options many owners do not even consider, and valuations – what is your business worth now and what can it be worth in the future.
You can reach us at 833.4U2.EXIT (833 482 3948). Also, check out our website contractorsuccession.com to read our blogs and to listen to all our podcasts. You can also complete an initial questionnaire that we will review and contact you to discuss.
Thanks for listening.
Scott Good and Marty Wolff, Partners in Contractor Succession LLC